RECAP: 2018 #IndyCup by Tinker Coffee
If there's one thing I love more than coffee, it's an over-abundance of coffee. And right now I'm riding a caffeine high from this year's Indianapolis Cup that will last me at least a week.
And before we get started, I gotta give a huge shoutout to Steve, Jeff, Dylan, and the entire Tinker crew for putting on an incredible event. Met a ton of awesome new people, caught up with some old friends, and drank way too much coffee. Now, on with it!
#IndyCup Recap
On Sunday, May 6, the best coffee shops , coffee roasters, and caffeine aficionados took over the Biltwell Event Center downtown Indy for Tinker Coffee's Second Annual Indianapolis Cup , a celebration of the finest coffee in the state.
Vendors from all over Indiana (and even Ohio, Kentucky, and Wisconsin) took over both floors of the Biltwell to showcase their finest coffees, espressos, sweet coffee merch, kombuchas, brewskis, libations, pastries, almond butters, and ice creams. The awesome guys over at the DRNK CLTR podcast were also recording live all day for all the world to hear.
The Cuppings
The main attraction of the day came from the exclusive Cupping events where expert roasters and coffee pros taught regular folk - like you and me - the ins and outs of cupping coffee.
Coffee cuppings are very similar to wine tastings without needing a designated driver. Typically hosted by coffee roasters, cuppers take an in-depth dive into all of the ways coffee beans are grown, dried, shipped, and roasted. Then you get taken on a magical journey where you explore every single stage on the coffee brewing journey - from the water boiling and bean grinding to the water pouring and coffee slurping. It's a super fun way to experience coffee instead of just drinking it.
If you've never taken a coffee cupping class, you're missing out. Head here, here, or stay tuned to this blog for upcoming events. It's all in the slurp.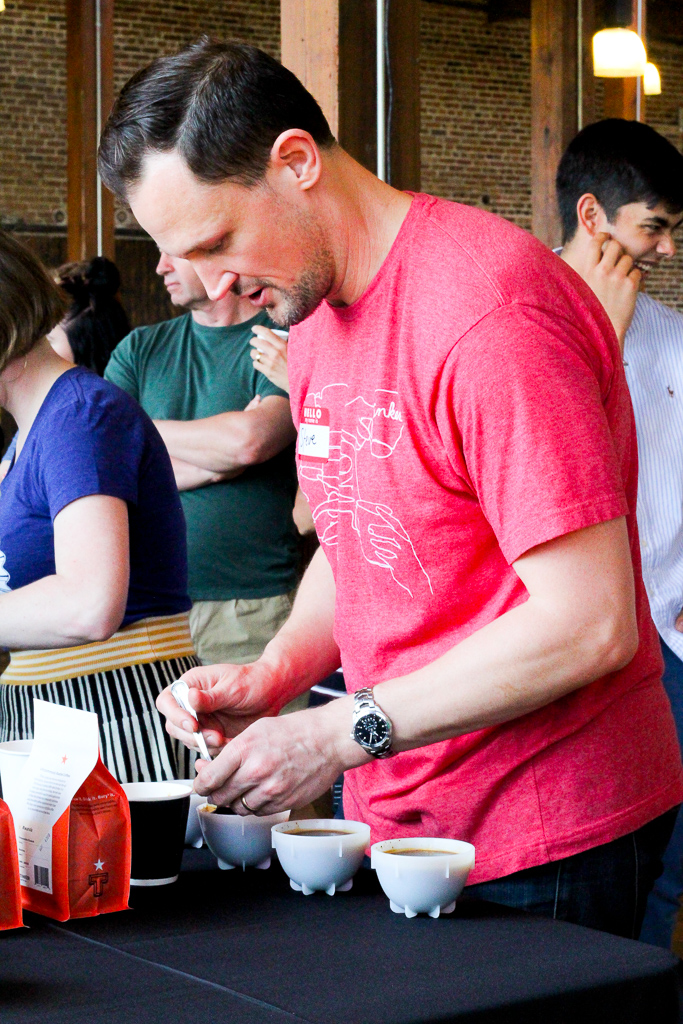 The Culture of Coffee
My favorite part about events like the Indianapolis Cup is the community and camaraderie behind coffee culture. Coffee is for everyone. And the fine folk in this industry don't care where you come from or what your background is. They just want to share their passions with you over a cup of killer coffee.
It's no secret that I love the coffee in Indianapolis, but I love the community behind it even more. And it is amazing to see everyone come together to have a good time and to celebrate the beautiful beans that make our world go 'round.